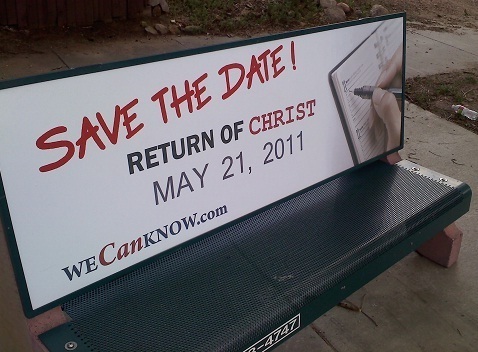 Oh man! It seems like all everyone is talking about these days is May 21, Judgment Day! For a while, I have been trying to figure this thing out. I have read through this website, and this one too. I have re-read through Revelations and Daniel, and have even engaged in a couple of debates with some friends. I've tried to figure out how these guys got the inside scoop about it when no other group of Christians in the entire world have. I have admired the guts of these guys to be so bold about publicly declaring Judgement Day so near to the present day. (If it were me, I would for sure pick a day far in the future, long after I have left the country or died.) There just doesn't seem to be an upside to calling the end of the world. If you are right, then it's the end of the world But if you are wrong, you look like a total idiot. Since these guys don't have any upside, then I figured I am going to live this last week like it really matters. Today, I am going to be a little selfish in my pursuits and check off some of that rusty 'ol bucket list.
Since this is the last week on earth, here is my plan:
1: Take a Sick Day: I know calling in a sick day doesn't seem to be that bold, but on the off chance this isn't the last week, I still need to hedge a bit. So, instead of straight-up walking out on my job, I will at least take a sick day to remind me and those around me that my entire life and value does not revolve around my job. For this week, I will work less at logistics and more at enjoying my relationships.
2: Be Home For Dinner Every Night This Week: It is amazing how I have become a slave to my schedule. Meetings, youth group, more meetings, more youth group, bible study, and outings with friends: that about sums up my week. But not this week. This is the last week on earth, and so I am going to soak up as much family time as possible.
3: Have a Lazy Morning: Ever since our kids started school, morning routines have lost their special lazy appeal: Wake up at 7 and then for the next 45 minutes, race to get dressed, make lunch, eat breakfast, and try to not fight. This week we are all going to go in late. Late to work, late to school, just late. Wake up when we want, enjoy family time in the bed, and a hot breakfast. Then, when we get around to it, we'll make an appearance at school and work.
4: Build a Model Rocket: I know that sounds lame, but I have always wanted to. There is something really appealing about dropping over a hundred dollars on a project that will take me all day and that will end with an explosion. 3-2-1 blast off!
5: Be in a Flash Mob: I don't really know how to pull this off, but I am going to look into it, or start my own. I have easily wasted hours on YouTube in the last couple of weeks and am so impressed. It is performance art for normal people. This last winter I was around when one happened and I felt like Cam from Modern Family trying to dance along. This week, I will be one of them!
6: Speaking of Modern Family, I Will Watch Them All: It just is the best show on television. I know it does't seem to make sense to spend 20 hours of my last week on the planet watching tv, but I don't have time to book a flight to Italy with the wife, so wine and our show will have to do.
7: Let Those Grudges Go: I am pretty proud of myself for having a relatively short list of people who I am not right with. But now, those on the short list, those who have really wronged me, I am letting go. I am fully living into forgiveness this last week. There is no way I am going to waste any more time worrying, fretting, and being bitter about people and situations that are out of my control. You are forgiven. (Maybe we can reconcile in person next week :) )
8: Give More Hugs: Everyone seems to think that I have a heart of stone, an emotional rock that can never be penetrated. This week I am going to have my outside persona match my inner Teddy Bear. Hugs, affirmations all around. Who knows, I might even squeeze out a tear. If you need some extra love this last week on earth, give me a call, send me an email and I will go over the top with love and affirmation!
9: Eat at Buffets: Actually, strike that. I think I'm actually going to keep eating well and running. I actually enjoy my life better when I don't eat everything in sight. Even if the end is near, I am going to be fit and get my 20 miles in because it actually brings me life. It is a guaranteed 3+ hours of solitude where I can work things out with God and listen for what he might have for me.
10: Get Right: Even though I don't actually believe that the end is near, I do actually believe that we should live so that we are ready for that moment, ready so we don't have to shrink away. "Above all, you must live as citizens of heaven, conducting yourselves in a manner worthy of the Good News about Christ. Then, whether I come and see you again or only hear about you, I will know that you are standing together with one spirit and one purpose, fighting together for the faith, which is the Good News." Phil 1:27
I hope you have a great last week everybody! What are you going to be doing?
[youtube=http://www.youtube.com/watch?v=xSE8NJHn7ss]